Hi guys!
I bought this amaaaaazing stuff today!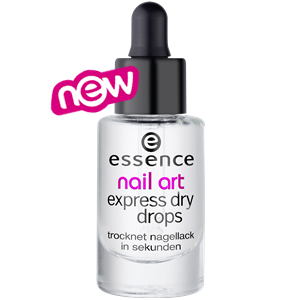 This is it, it was only €2 that is equal to $2,63.
Express dry drops by Essence, it is only availible in some european countries.
Here is my short review and a dupe i found.
After applying your nailpolish wait 30 seconds and then let 1 drop fall on your nails.
Wait another minute or 2 and carefully keep your hands in cold water, dry them.
Your nailpolish should be dry right now!
+ nailpolish is dry very fast
+ no need to wait hours to have your nailpolish hard  
- nailpolish is not hard
- it will make your skin arround your nails dry too 
(so make sure you wash an hydratate your hands, you can use cuticle oil/cream, i really recommend heromes cuticle cream)
I checked out the internet and an OPI dupe: Drip Dry.
You should be able to get this at Sephora.
You should definitely check it out because it works! If you think the OPI dupe is too expensive you can always check out your local drugstore, they might have another dupe. I think there will be more products like this soon.
see you soon 
xoxo